Season 1 of The Skills Baseline has come to a close and we are sharing our top-5 takeaways for data and AI leaders looking to make skills their competitive advantage. The industry experts that joined our founder and CEO, Kian Katanforoosh, provided actionable insights and plenty of best practices for developing skills, driving continuous learning, and planning for the future. See our favorites below, then catch up on any episodes you may have missed!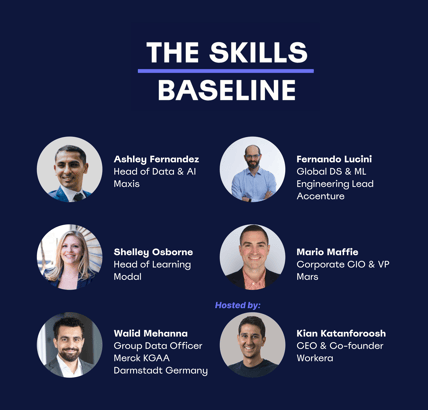 1. The traditional one-size-fits-all approach to upskilling doesn't work

In Episode 1 of our series, Fernando Lucini, Global Data Science & Machine Learning Engineering Lead at Accenture, shared why he thinks traditional upskilling is broken. He believes the lack of proper measurement, guidance, and a one-size-fits-all approach to learning doesn't work for enterprise-scale organizations. To have a truly effective upskilling strategy, Fernando says you need to have a full understanding of your workforce's skills, their gaps, and their potential.
Jump right in;

07:05

How do you guide and help your workforce to develop themselves?

36:50

How to develop people at scale?

44:39

How do you use skill data?



2. Data-fy everything

Ashley Fernandez, Chief Data & AI Officer, Huawei | Former Head of Data & AI at Maxis, joined Kian for Episode 2, where he chatted about why it's critical to data-fy and measure everything. He believes that assessments and benchmarking help to significantly shorten onboarding of new-hires and keeps his team on the cutting edge of technology. See how Ashley uses data and insights to connect technical capabilities with organizational objectives.
Jump right in;
12:50 How do you grow, develop and upskill your team?


14:52 How do you identify skills?


16:18

How do you balance upskilling with hiring?




3. People are the most important part of your data strategy
Kian's conversation with Walid Mehanna, Group Data Officer at Merck KGaA Darmstadt Germany, in Episode 3 focused on the current state of upskilling and why he believes that people are the most crucial component of any data strategy. In practice, putting the workforce center stage when it comes to learning and upskilling means offering a full spectrum of content that is presented in whichever way an individual learns best and is hyper-specific to their needs. Find out more about the correlation between learning activities and business outcomes.
Jump right in;
08:50

How do you deal with scale and personalised upskilling?

21:30

Relationship between learning and business outcomes

31:35

Best time investmen

t as Data Leader regarding upskilling

4. Create a culture of continuous learning
Shelley Osborne, Head of Learning at Modal, shared a lot of great tips on creating a culture of learning in Episode 4. Having to constantly look outside your organization to fill roles is inefficient and leads to employee turnover. Instead, Shelley recommends building a culture that is continually upskilling to meet future organizational needs and foster internal mobility. See how you can develop talent and inspire your workforce to upskill.
Jump right in;
5. Don't let scale limit your experimentation
Episode 5 features Mario Maffie, Corporate CIO & VP at Mars, who talks with Kian about the critical role of skill insights and intelligence in digital transformation, and why it's so important to not let your desire to scale restrict your experimentation and learning. By creating a short period of time to examine ideas, regardless if you don't yet know how to scale them, will always provide new learning opportunities and may glean outcomes and solutions that are ultimately valuable to the business. Learn how to balance scale with experimentation.
Jump right in;
17:28

How do you move to the next level of digital capability building?

26:10

What can you look for to know your digital transformation has actually up skilled your organization?

32:32

How do you balance needing to scale w

ith exploration in your work?
Did you miss any episodes in season 1 of The Skills Baseline? Watch them all now, on-demand, or listen-in on your favorite streaming platform. Stay tuned for season 2!
Learn how Workera can help you implement these best practices at your organization.