Why invest in the Generative AI skills of your team?
As businesses ride the wave of ChatGPT, the term "AI" has quickly become incorporated into products and data strategies. Every day, GenAI initiatives are being launched across enterprises. The World Economic Forum (WEF) predicts AI technologies will disrupt 85 million jobs globally between 2020 and 2025, disrupting 44% of worker's skills. And recent GenAI advancements will only make this percentage go higher.

In the last six months, many of our customers have launched a specific initiative to measure and develop their Generative AI capabilities. Aggregating our data across these organizations, we could see that only 28% of their teams had the necessary competencies in various Generative AI skill sets upon initial assessment. This skill gap directly impacted their enterprise's ability to innovate in these areas.
"Realizing only a small part of our teams was proficient in GenAI was our wake-up call. This baseline gave us the clarity to set measurable skill development goals not just to compete, but to lead".
– Sr. Data Scientist, Technology Consulting Firm
Which skills matter for ChatGPT and LLMs?
In fast-developing technological areas, how do you determine which skills to measure and develop? Our team of subject matter experts and psychometricians build skills frameworks for each relevant domain that we measure. Each skill within these models is tied to something that can be measured accurately on Workera. It's what powers our ability to measure employees on the skills that actually matter to the work that they do.
See below a snapshot of the ChatGPT skill domain broken down to be able to measure skills on a granular level.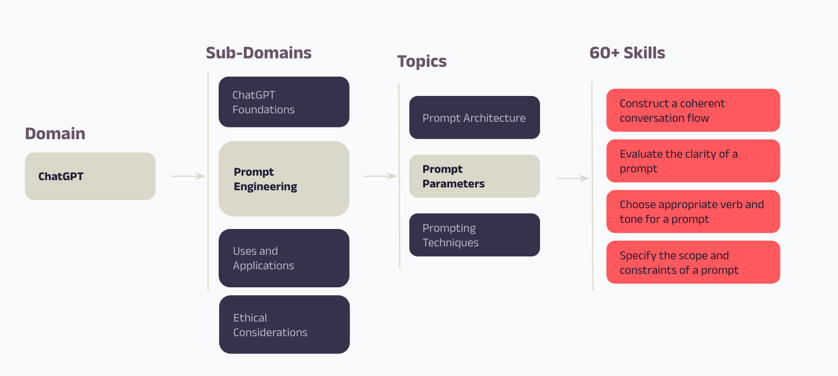 Measure the skills of your workforce to enable rapid upskilling.
So what makes Workera different? Like many other assessment solutions in skills development, assessed learners and provides a score from 1 - 300 broken out into three categories: beginning (1-100), developing (101-200), and accomplished (201-300). Workera's assessments adjust to each user based on their own skill level using computer adaptive testing. Coupled with AI and informed by millions of measurements across the globe, Workera provides accuracy in skills measurement that's unmatched in the industry. With these skill signals, leaders are provided with the necessary data to know — without a doubt — where their teams are.
Here are some remarkable results our customers achieved over the past few months;
+37%

Increase in individual competency of ChatGPT skills
4x

More experts in ChatGPT among our active users in this domain.
+240%

Increase in the number of users who qualify as "accomplished" in Generative AI
Beyond tracking progress toward your team's competency in Generative AI, you can also size up your workforce's capability against both your industry and Big Tech.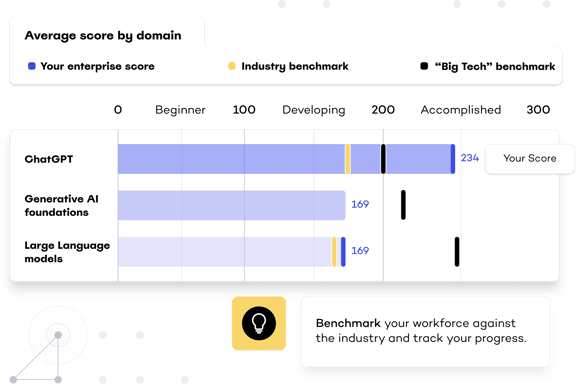 Three ways in which Workera has accelerated skill development in generative AI
Adaptive Plans: Workera's solutions help by creating unique learning plans to guide learners to focus on target skills with quick 15-minute lessons and integrating with the existing learning content available to teams, making upskilling tailored to fit the needs of the individual for accelerated learning, at scale.
Learning challenges: Another approach managers took to help their teams reach the necessary competency was creating challenges with their Workera Customer Success representative. By leaning on team champions to encourage everyone to see the same results, learners rapidly upskilled data scientists, software development, and marketing for generative AI. Managers are enabled to adapt the objectives set for their organizations to help the individuals. The individual learning plans can be gamified by designing the pathways for even faster deployment.
Guide for the future: While 67% of teams reached the needed GenAI competencies, continued learning is our primary objective regarding skills development. A quick look showed that average individuals improved their score by 54 points. This may meet the needs of today, but what comes next? Regardless of skills meeting immediate needs, individuals should be encouraged to continue upskilling to advance their careers — and Workera provides the solutions needed to do so.
"Teams are currently seeing a major shift toward GenAI initiatives, and they are seeing quick results. These teams are future-proofing their skill sets to ensure efficiency and their ability to prepare for the big shift to Generative AI. And these skills are not exclusively for data and development professionals, but entire roles in every department."
– Ozzy Khan, Head of Customer Success, Workera
Get started
Accelerate your enterprise transformation by assessing your team's skills, rapidly upskilling, and measuring their progress in cutting-edge technologies like GenAI. Learn more from one of our experts by clicking the link below.