Thank you.

Our team will be in touch shortly to schedule your demo.




Recommended for you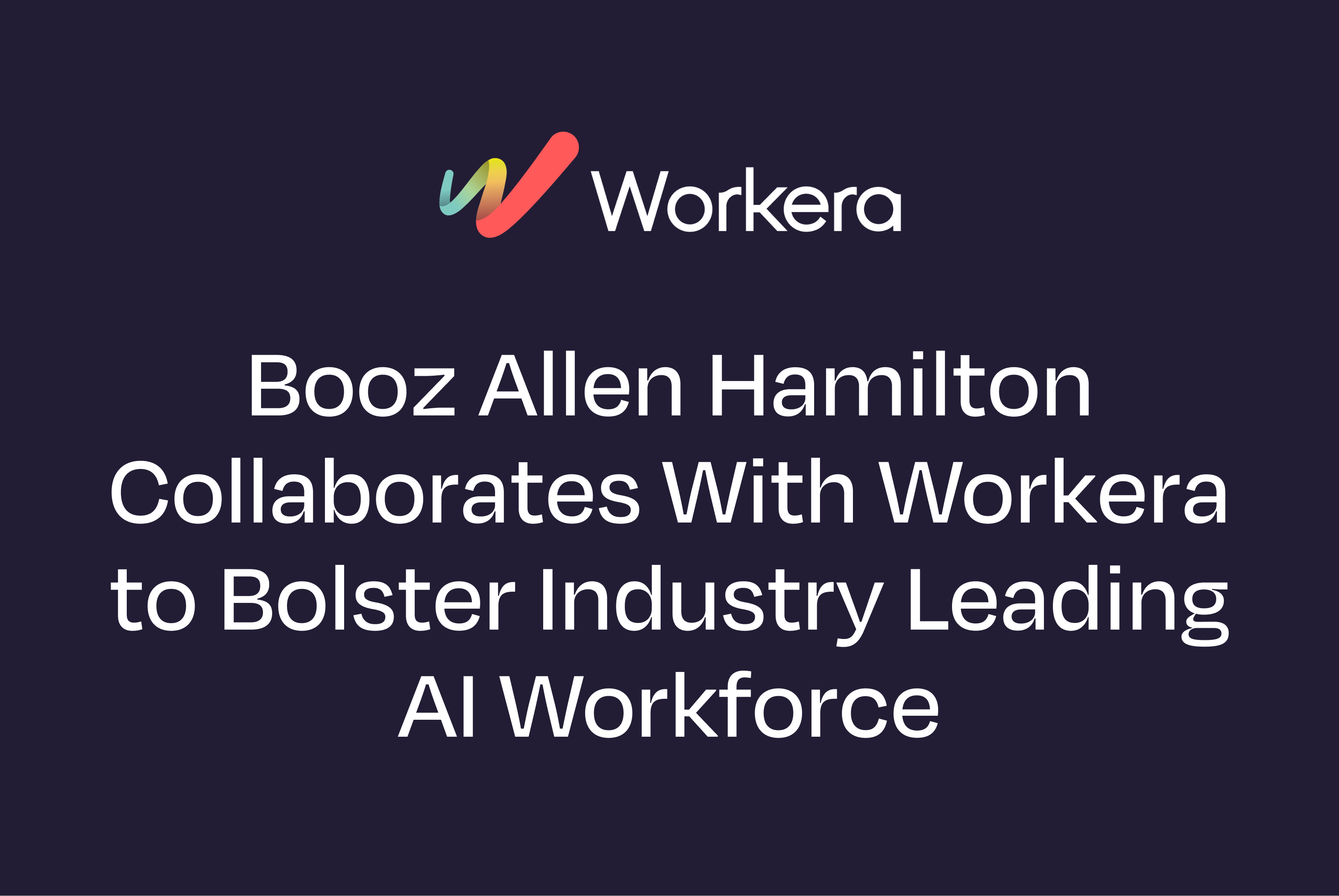 Blog
Booz Allen Hamilton Collaborates With Workera to Bolster Industry Leading AI Workforce
Booz Allen Hamilton Collaborates With Workera to Bolster Industry Leading AI Workforce Relationship will provide Booz Allen employees with continuous AI skill development pathways to further empower government and commercial clients with secure and responsible AI Palo Alto, CA – November 16th, 2023 – Workera, the leading workforce transformation platform, and Booz Allen Hamilton (NYSE: BAH), the largest provider of AI services to the federal government, today announced a collaboration to power advanced AI skills development for Booz Allen employees. Booz Allen will deploy Workera's platform to provide granular skills assessments and hyper-personalized learning plans in essential AI Engineering and AI Consulting skill areas for employees working directly with government and commercial clients. This collaboration is the latest move by Booz Allen designed to enhance the AI-ready posture of its workforce, providing the skills and training required to help its clients adopt secure, responsible, and mission-driven AI solutions, even amidst a constantly evolving technology landscape. The pace of innovation in AI has never been faster, bringing incredible productivity gains to workers and organizations with the skills to take advantage. But despite a federal sector that is increasingly bullish on the idea of a skills-based future, the shortage of technical talent is a critical limiting factor in government adoption of emerging technology. Bringing AI to bear on the federal government's toughest challenges while maintaining rigorous standards of safety, security, and trustworthiness requires the skill and perspective of a large and diverse workforce. By leveraging Workera's workforce transformation platform, Booz Allen will be able to continuously nurture highly-skilled talent dedicated to helping federal agencies design, build, and scale responsible AI solutions that support the nation's most critical and socially impactful work, as well as keep up with a rapidly advancing private sector. "I started Workera with the belief that with the right skills, people can greatly advance progress," said Kian Katanforoosh, CEO and Founder of Workera. "Finding the optimal pathways to proficiency is especially important for the public sector, which employs a diverse workforce and reaches hundreds of millions in need of AI-related skills. That's why we're excited to bring our workforce transformation platform to Booz Allen, helping them equip their teams with the technology skills allowing them to bring AI to their federal partners." Powered by the most granular skills dataset in the world, Workera uses assessments to measure an individual's proficiency across more than 10,000 distinct skills — including machine learning, data science, cybersecurity, and more — with incredible accuracy. It then uses the results of those assessments to build hyper-personalized adaptive learning plans using both an organization's own internal content, paid content providers, as well as freely-available content from sources such as publications, blogs, whitepapers, and more. With Workera, organizations also have visibility into employee proficiency, progress, and benchmarking. That means not only do employees get the individualized training they need to improve their skills quickly, but leaders have a birds-eye view to help them effectively staff teams, inform hiring decisions, and stay on the cutting-edge of innovation. "We're seeing enormous growth in demand for AI services and solutions from our federal government and commercial clients, as emerging capabilities present new opportunities. Booz Allen's role as the foremost provider of AI services, and mission partner for over a century, to the federal government gives us a unique perspective in bringing the best in innovation to our clients," said Joe Rohner, Vice President of Artificial Intelligence at Booz Allen. "The Workera platform is an important component of the infrastructure we've built over the last decade to ensure our 2200+ AI practitioners have the skills and expertise they need to operationalize our latest AI tech stacks for our clients." Workera's collaboration with Booz Allen comes following their raise of $23.5 million in Series B financing earlier this year, led by Jump Capital with participation from NEA, Owl Ventures, AI Fund, and Sozo Ventures. About Workera Workera is the leading workforce transformation platform using advanced artificial intelligence to transform organizations' workforces. It is the only platform that generates uniquely tailored learning plans that help workers learn critical skills like machine learning, data science, cybersecurity — and anything else — faster than has ever been possible before. Workera's platform also provides overall team skills insights to organizations to help leaders staff teams effectively and drive innovation. Founded in 2019 by Kian Katanforoosh, Workera is backed by Jump Capital, NEA, Owl Ventures, AI Fund, IQT, Sozo Ventures, Plug and Play, and AIX Ventures. Learn more at workera.ai.
Learn More
"We were fortunate to stumble upon Workera because it gave us an opportunity to identify skills, even those that are very niche, and it understands the right principles of how to apply skills data to help have better conversations with our team."